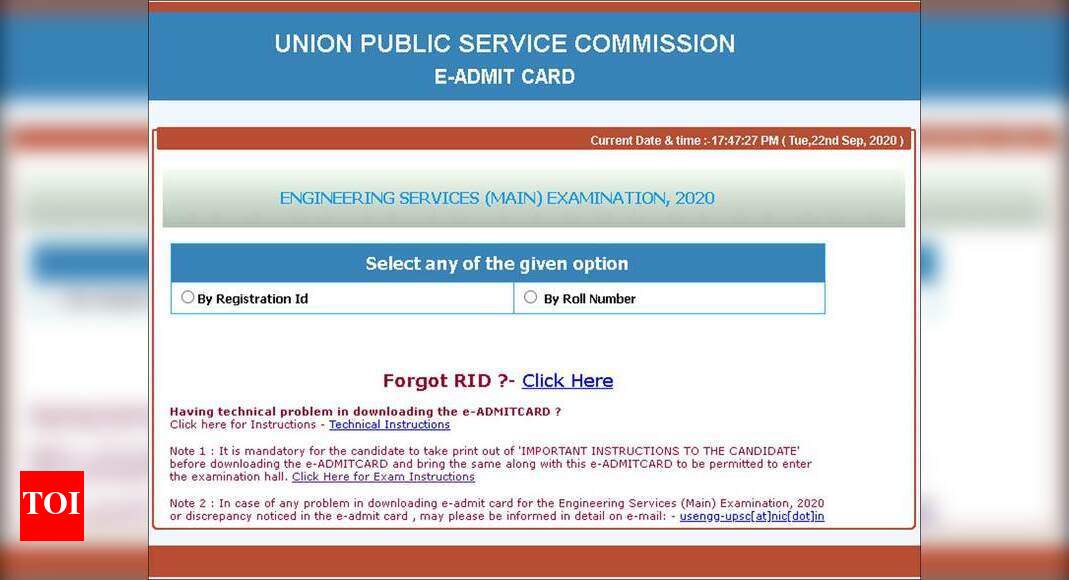 NEW DELHI: The Union Public Service Commission (UPSC) on Tuesday released the e-admit card for engineering services (main) examinaion 2020 on its official website.
Along with the Engineering Services (Main) Examination 2020, the UPSC has also released the examination time table.
According to the notice posted on the UPSC official website the Engineering Services (Main) Examination 2020 will be conducted in two shifts – forenoon from 9:00 am to 12:00 noon and in the afternoon from 2:00 pm to 5:00 pm on Sunday, October 18, 2020.
Candidates, who have applied for the examination, can download their admit card either by Registration ID or by Roll Number on the official website – https://www.upsc.gov.in/.
Candidates are advised to check the e-Admit Card carefully and bring discrepancies, if any, to the notice of UPSC immediately. They should mention their Name, Roll Number, Registration ID and Name & Year of the Examination in all the correspondence with the Commission.
Candiddates should bring this e-Admit card (print out), along with the (original) Photo Identity Card, whose number is mentioned in the e-Admit Card , in each session to secure admission to Examination Hall. e-Admit Card must be preserved till the declaration of the final result.
It may be noted that the wearing of mask/face cover is mandatory for all candidates. Candidates without mask/face cover will not be allowed entry into the Venue. Candidates, however, will have to remove their masks for verification, whenever required by the Examination functionaries.
Candidates should enter the Examination Hall at least 30 minutes before the scheduled commencement of the Examination. It may be noted that the entry to the Examination Venue closes 10 minutes prior to the scheduled commencement of the examination in each Session i.e 08:50 AM for the Forenoon Session and 01:50 PM for the afternoon Session. No candidate will be allowed the entry into the Examination Venue after closure of the entry.
Only battery operated pocket calculators of "non programmable" type are permitted for use during both the sessions.
Candidate should not be in possession of or using any mobile phone(even in switched off mode), pager or any electronic equipment or programmable device or storage media like pen drive, smart watches[use of watches fitted with any special accessory] etc. or camera or Bluetooth devices or any other equipment or related accessories either in working or switched off mode capable of being used as a communication device during the examination. Any infringement of these instructions shall entail disciplinary action including ban from future Examination. Use of normal or simple wrist watches by candidates is allowed inside the Examination Rooms/Halls.